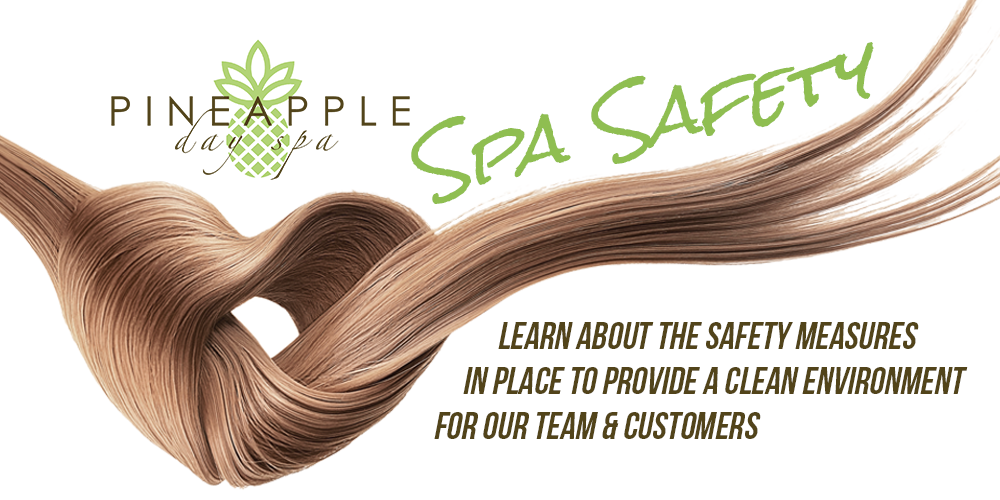 Pineapple Day Spa is open and operating in accordance with NYS and CDC guidance! 
This page provides all the information you need to know about the Safety measures in place to ensure a clean environment for both our team and customers. We look forward to welcoming you back! The topics included on this page are:
We're Open!
We are open, following the guidelines of NYS & the CDC. Our hours of operation may vary.
WEDNESDAY 9:00AM – 8:00PM
Services & Staff Available
Salon Services
We're happy to be offering all Salon Services!
*Please note: Root Retouch pricing has gone up by $2 due to increased costs. 
Salon Staff Available
Here is a current list of Stylists that will be available.
Spa Services
We're happy to be offering all Spa Services!
Spa Staff Available
Here is a list of the Spa Technicians available!
We have always taken the cleanliness of our Spa & Salon seriously but in this new environment we have taken all necessary steps to meet and exceed the cleanliness, sanitization and sterilization standards set by NYS, CDC, Department of Health, & OSHA. Here are some of the standards we have implemented.
We are dedicated to ensuring both the safety of our Staff as well as our Guests. Several precautions have been implemented to do so. 
We're all in this together. There are a few things we required of our guests to ensure a safe environment.
What to Expect
There will be some changes to the way we perform services to ensure we align with the safety regulations mandated. Our Staff will do their best to communicate these to you throughout your experience. We ask for your patience and understanding as we all navigate these challenges together.
Payment options for services will include Cash, Credit or Debit Cards, Gift Cards & Rewards Points*. Please note that special offer promotions for Services have been suspended. 
Have a question for us? We'd love to share our answers! Contact us by calling 845-744-3039. Please be sure to follow us on Facebook and check this page for the latest information as well.