Hudson Valley Bridal Salon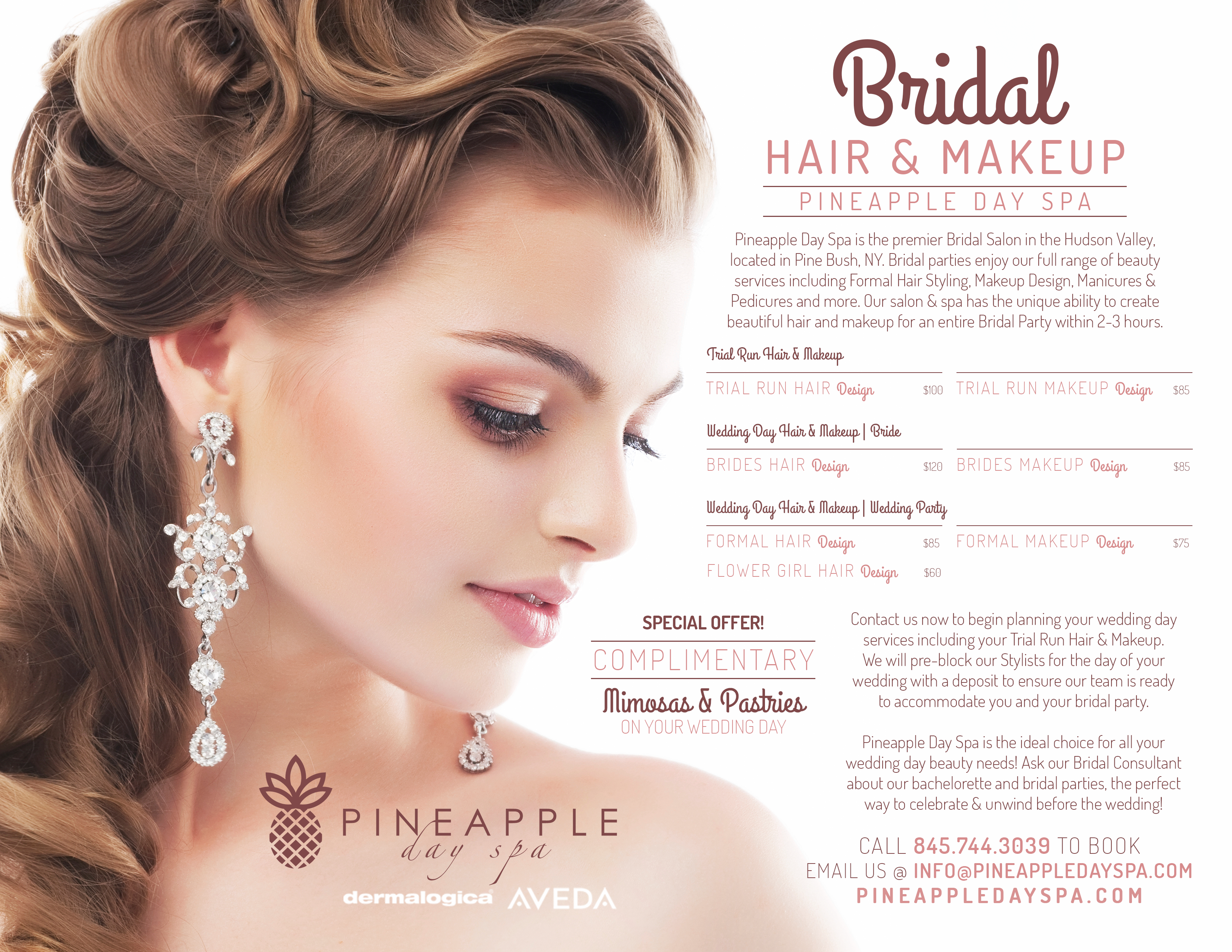 Pineapple Day Spa is the premier Bridal Salon in the Hudson Valley, located in Pine Bush, NY. Bridal parties enjoy our full range of beauty services including Formal Hair Styling, Make-up Design, Manicures & Pedicures and more. Our salon has the unique ability to create beautiful hair and make-up for an entire Bridal Party within 2-3 hours.
Our salon is conveniently located near many Hudson Valley wedding venues including:
Anthony's Pier 9
Mohonk Mountain House
Ben Marl Winery
The Colden Manor at Spruce Lodge
Brotherhood Winery
West Hills Country Club
Winding Hills Golf Club
Villa Venezia
Eagle's Nest
Audrey's Farmhouse
Kuhl's Highland House
and more!
Contact us now to begin planning your wedding day services including your trial run hair & make up. We will pre-block our stylists for the day of your wedding with a deposit to ensure our team is ready to accommodate you and your bridal party. Pineapple Day Spa is the ideal choice for your wedding day beauty needs!
Ask our bridal consultant about our bachelorette and bridal parties, the perfect way to bond with your girls before the wedding!
FOR THE BRIDE…
WITHIN A MONTH AWAY
trial run hair design
trial run make up
60 minute aromatherapy massage
dermalogica skin treatment
WITHIN A WEEK AWAY
spa manicure
spa pedicure
brow design
bikini hair removal
60 minute aromatherapy massage
body foliation therapy
WEDDING DAY
wedding day formal hair design
wedding day make-up design
FOR THE BRIDAL PARTY & MOM's…
WITHIN A WEEK AWAY
spa manicure
spa pedicure
brow design
body foliation therapy
WEDDING DAY
bridal party formal hair design
bridal party make-up design
FOR THE GROOM & DAD's…
WITHIN A WEEK AWAY
manly-mani
manly-pedi
brow design
men's deep tissue massage
men's skin treatment
men's haircut
FOR THE FLOWER GIRL…
WITHIN A WEEK AWAY
spa manicure
spa pedicure
WEDDING DAY
flower girl formal hair design
flower girl make-up design
*20% gratuity is included upon checkout on all bridal parties and groups