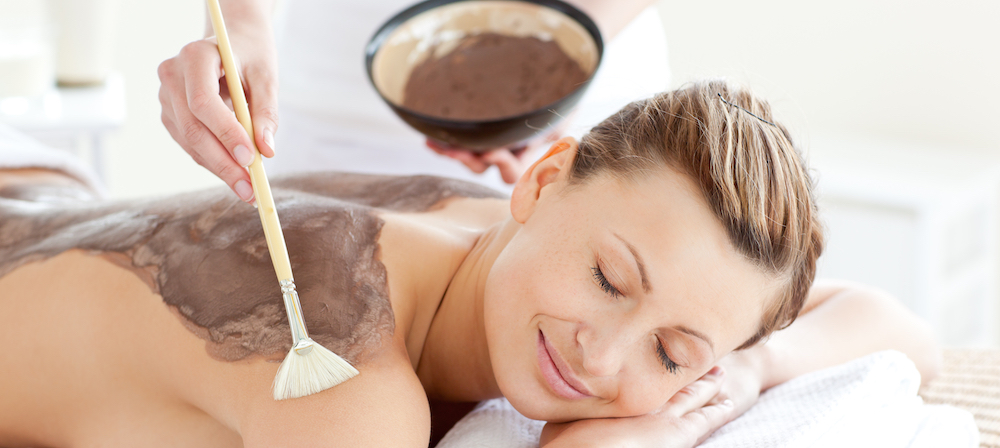 TOTAL BODY THERAPY

The ultimate in total body care. We begin with exfoliation featuring micro-buff body polish to remove dulling skin cells.  A European rose body mud wrap is then applied from head to toe to hydrate and detoxify skin, and to wrap it all up, you will receive a deeply relaxing scalp massage, finishing up with a personalized aromatherapy oil along with hydrating, smoothing massage butter. Mind and body will feel relaxed, regenerated and renewed!
NOURISHING SEA MUD THERAPY

Stimulate circulation while smoothing skin with this body wrap therapy that promotes skin nourishment. We begin with sea salt glow to stimulate circulation, re-mineralizes skin and boost treatment absorption. Rest in a warming firmi-sea body mud as it tones and smoothes skin texture all while encouraging skin firming and replenishing.  A personalized aromatherapy oil along with our smoothing massage butter will provide therapeutic skin benefits.
SEA SALT SCRUB THERAPY

Sea Salt therapy polishes skin to a soft glow while providing critical hydration & nourishment skin needs. Mineral sea salts exfoliate while skin-smoothing enzymes help dissolve dead skin cells naturally. Personalized aromatherapy oils and smoothing massage butter stimulate the senses and leave your skin smooth and hydrated.
MICRO-FOLIATION THERAPY

Ideal for sensitized or prematurely aging skin. Give your body the exfoliation it needs and sensation it craves! The micro-foliation is ideal for sensitive skin and lifts away dry skin, refines and softens the skin. Skin is smoother and prepared for maximum absorption of rich, personalized smoothing aromatherapy oils. You'll leave this therapy with silky, healthier skin.
POWER HYDRATION THERAPY

Beginning with a dry brush, we exfoliate and buff away dry, dead skin cells then apply an intense body luxe hydrating wrap therapy dedicated to feeding your skin with the nourishment it craves. A customized essential oil blend is added to our massage body butter to seal in moisture.