Pineapple Day Spa is proud to welcome you to our newly renovated Manicure & Pedicure salon featuring our one-of-a-kind Mani Bar , and our new Pineapple Pedicure Experience with 3 luxurious stations complete with Shiatsu massaging chair, soothing color LED lights, and of course, our award winning service.
Pineapple Pedicure Experience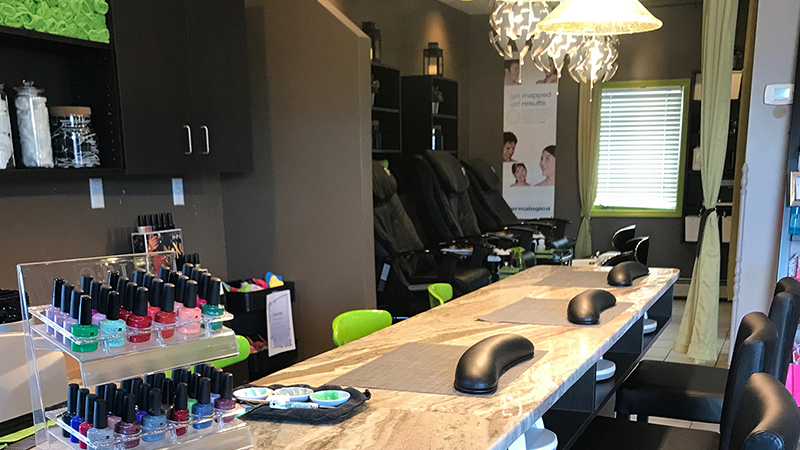 Say Hello to the future! Shellac® is the breakthrough, patent-pending UV3 technology that combines the ease of polish. A true innovation in chip-free, extended-wear color. Choose Shellac® for your Manicure or Pedicure polish and experience 14 day chip free wear!

Enhance your manicure and pedicure with the following treatments to achieve the results you desire. Extra time may be required, so be sure to schedule accordingly.
Eco-fin is a rich blend of palm, soy, jojoba and organic coconut oils, shea butter, vitamin E and essential oils. With heat, it delivers rich moisturizers that leave the skin soft and supple.
Add-on to Manicure    $10
Add-on to Pedicure    $10
French or Artistic Polish
Enhance your polish style with French or Artistic Polish. Consult with your technician on details of your desired design.
Add-on to Manicure from $5
Add-on to Pedicure from $5
Shellac® may  be applied with or without a Manicure or Pedicure. Removal requires a soak off process should you wish not to reapply. 
Soak off (if not reapplying)
Application (without Manicure or Pedicure)