Bronze Biologic premier cosmeceutical tanning solutions are proprietary formulas that use only the finest botanical ingredients available to produce a safe, all natural looking tan. All of the solutions are manufactured in the highest quality facility with a unique process that is exclusive to Bronze Biologic, utilizing beet and cane sugar extracts.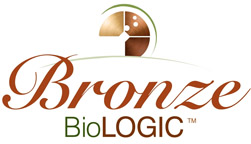 Bronze Biologic tanning solutions do not and will never contain any harmful or toxic chemicals, dyes, alcohol, additives, perfumes, or artificial colors. The solution contains only the purest form of all of ingredients that will deliver results unsurpassed by any other tanning solution. Some other "natural" or "less expensive" solutions may contain ALOE, but also contain lanolin, a natural chemical found in sheep wool. Uniquely, Bronze Biologic is free of Lanolin. Since some individuals may be lanolin sensitive or worse, lanolin allergic, it is best to use the LANOLIN-FREE product, Bronze Biologic.
PRICING
Series of 3: $108
SAVE 10%!
Series of 3: $204
SAVE 15%!
ABOUT BRONZE BIOLOGIC…
It is important to choose a natural tan product.
Mainstream products contain an array of undesirable ingredients including oil derived from petrochemicals, as well as parabens, synthetic fragrance, and other additives.
Our natural products are all paraben free and do not contain synthetic fragrance, and other additives.
DHA ( Dihydroxyacetone) is a natural sugar substance derived from sugar beets or sugar cane. DHA has been approved for cosmetic use by the FDA, the Canadian Health Ministry, and most of the EU member nations. DHA-based sunless tanning has been recommended by the Skin Cancer Foundation, American Academy of Dermatology, Canadian Dermatology Association and the American Medical Association.
Before Your Visit
Bronze Biologic Tanning Recommendations
(What to do before you tan)
We recommend that you do not tan after 8pm because the tan can stain your hands while sleeping If a tan is done after 8pm or late at night, please wear cloth gloves while you are sleeping that night
Step 1 (The day before your tan)
Shave all areas that you normally shave. DO NOT shave the day of the tan to prevent minor spotting
Exfoliate with a washcloth or loofah.
Step 2 (The same day you receive your tan)
DO NOT use any body lotion, body cream, make up or perfume the day you will be tanning
DO NOT shave the day of the tan to prevent minor spotting
DO NOT wax any areas of your body including your face the day of your tan
DO NOT put on any under arm deodorant (powders or lotions)
Wear dark, loose fitting clothing (NO tight fitting clothing, socks, or tight fitting shoe apparel)
Cotton clothing is optimal (tanning bronzer stains will wash out of most cotton clothing, do not wear silk)
Please bring a bathing suite or underwear or other suitable tanning attire unless you are tanning bare
After Your Visit
Bronze Biologic Tanning Recommendations
(What to do after you tan)
Once your tan is applied, allow it to dry completely (we will help ensure that your application is dry)
We recommend that you wear dark, loose fitting clothing after your appointment
Any minor rub-off will easily wash out of most fabrics (not silk)
Do not wet your skin for at least 6 to 8 hours after the tanning session.
No shower or bath for at least 6 to 8hours (it is best to wait until the next morning)
Your tan will last longer if you DO NOT bath or shower the same day of your tan
We also recommend that you do not exercise or perspire excessively until the next day after your tan
Avoid touching or rubbing any tanned areas
All tanning colors will wash out of clothing and bedding (avoid silk)
When you do shower or bath DO NOT scrub your body with a wash cloth (Use hand and soap only)
When showering or bathing DO NOT be concerned when the initial bronzer washes off – this is an expected part of the spray on tanning process, and your skin will continue to tan.
DO NOT exfoliate the skin for 7 days after tanning
Daily use of a recommended Body Lotion, such as Tan Extender is recommended to extend the results
Your tan will naturally fade over a period of days (each tan should last about 7 to 10 days)
Bronze Biologic spray tan does NOT contain sunscreen and will not protect you from the sun's UV rays
Frequently Asked Questions…
How does the Bronze Biologic Tanning System work?
The premier cosmeceutical tanning solution is professionally applied in a private room by a Bronze Biologic technician in about 5 to 8 minutes. You will receive an immediate, all natural looking tan that will continue to develop and become darker over the next 6 to 12 hours.
Is Bronze Biologic safe to use?
The exclusive proprietary tanning solution has been extensively tested and is very safe on all skin types. Most other tanning solutions are loaded with toxic ingredients that absorb directly into your skin and can cause health problems. Bronze Biologic was the first company to introduce a cosmeceutical tanning solution that is safe and does not contain any harmful chemicals, perfumes, alcohol, or dyes.
How soon will I see the tanning result?
You will receive an immediate, all natural looking tan that will continue to develop and become darker over the next 6 to 12 hours. The tan will reach its maximum color within 24 hours. People will notice the dramatic results very quickly.
How long will my Bronze Biologic tan last?
You can expect your tan to last for about 7 to 10 days depending upon your skin type and preparation. Regular Moisturizing will extend the life of the tan.
Is Bronze Biologic the same as air brush?
No. Although the equipment is similar, Bronze Biologic uses a new revolutionary high volume – low pressure application technology that will ensure your tan is applied evenly and properly. The Bronze Biologic system is much more sophisticated than air brush technology and covers the body much more effectively and allows the solution to dry very quickly.
Will I turn yellow or orange?
No, Bronze Biologic tans each client to their natural tan color. The tanning solution does not contain the chemicals and dyes that many tanning companies have added into there sprays. These chemicals and dyes are the source of the off color that you can sometimes see with other sprays; not with Bronze Biologic. Bronze Biologic's proprietary formulas were created with natural ingredients to a create a beautiful warm bronze glow for every client.